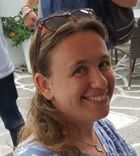 Dr. Shira Taube Dayan is a licensed developmental psychologist, a teaching associate, and a research fellow at the Asian Studies Department at the University of Haifa. She is a member of the national Knowledge and Research Center for Emergency Readiness in which she is active in the consortium for children in emergencies.
Dr. Taube Dayan obtained her BA from the Psychology Department and the Asian Studies Department at the University of Haifa, while completing also an intensive Japanese Studies Program at Waseda University, Tokyo. Dr. Taube Dayan obtained her MA in Developmental Psychology and Ph.D. at the Asian Studies Department at the University of Haifa. She has also completed the professional internship program in psychology supervised by the Israeli Ministry of Health and is a practicing psychologist working with young children and their caregivers.
Dr. Taube Dayan's recent research project has examined the longitudinal implications of natural and man-made disasters throughout childhood and adolescence in different societies in Asia. Within this framework, she has been particularly interested in less-heard stories of young people and the way they may reveal new meanings of psychological phenomena with personal and social importance in recovery from crises.
Dr. Taube Dayan is the author of several journal articles and more recently has been participating in an interdisciplinary book project about injustice in disasters, in which she brings out the voices of young people affected by mass traumas. In the coming years, she aims to continue integrating developmental psychology and cultural research for the benefit of the humanitarian research of children and young people in emergency and disaster situations, and to take an active part in forums that incorporate researchers, professionals, and policymakers for this purpose.